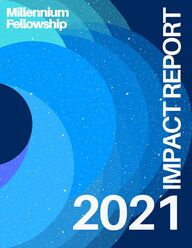 Return to flip book view
Impact Report 2021
Page 1
IMPACT REPORT Millennium Fellowship 2021
Page 2
The Millennium Fellowship is presented by the United Nations Academic Impact and MCN The Fellowship is a leadership program providing training connections and credentials to undergraduates advancing the Sustainable Development Goals SDGs on campuses and in communities Millennium Fellows at Nnamdi Azikiwe University Nigeria
Page 3
Millennium Fellows at Flordia International University USA Each August November cohorts of 8 30 Millennium Fellows on each selected campus meet over 10 sessions Fellows cultivate core values empathy humility inclusion hone skills build connections and take concrete action to advance the SDGs Upon successful completion Fellows earn a certificate of recognition 2
Page 4
CONTENTS 04 ABOUT THE MILLENNIUM FELLOWSHIP 06 MEET THE CLASS OF 2021 08 CLASS OF 2021 BY COUNTRY 10 MILLENNIUM FELLOWSHIP CAMPUSES 14 OUR IMPACT 20 OVERALL PROGRAM BENEFITS 22 TRAINING 26 CONNECTIONS 33 CREDENTIALS CAREER EXPOSURE 38 LEARNINGS FOR 2022 Throughout the report you will see this icon to indicate a hyperlinked text
Page 5
Millennium Fellowship allowed me to discover who I am as aleader and the limitless depth of who I could be. I havediscovered that my leadership value is rooted in empathy, butI have learnt to also incorporate humble and inclusiveleadership. Siyabonga Sibisi, University of Western Cape, South Africa
Page 6
In 2013 Millennium Campus Network MCN launched the Millennium Fellowship to convene challenge and celebrate student leadership making a difference Since 2018 MCN and the United Nations Academic Impact UNAI partnered to take the Millennium Fellowship to the next level Millennium Fellows receive training connections and credentials as they take action to advance the UN Sustainable Development Goals SDGs Millennium Fellows are selected from a wide range of academic institutions large and small public and private affirming the fact that there are student leaders in every community committed to localizing the SDGs and strengthening communities
Page 7
A RECORD BREAKING APPLICANT POOL The Millennium Fellowship received a record breaking number of applications for the Class of 2021 25 501 young leaders applied to join on 2 000 campuses across 153 nations The application process for the Millennium Fellowship is highly selective with only 6 of campuses selected to host Millennium Fellows for the Class of 2021 25 501 APPLIED TO THE CLASS OF 2021 2 000 153 CAMPUSES NATIONS 35
Page 8
MEET THE CLASS OF 2021 2 018 136 30 MILLENNIUM FELLOWS CAMPUSES NATIONS MEET THE MILLENNIUM FELLOWS
Page 9
MAJORITY PEOPLE OF COLOR 63 84 FEMALE 1 083 SOCIAL IMPACT PROJECTS ADVANCING ALL 17 UN SDGS 7
Page 10
CLASS OF 2021 BY COUNTRY136 Campuses30 CountriesMexico2 CampusesUSA26 CampusesBrazil1 CampusUnited Kingdom1 CampusFrance1 CampusGhana2 CampusesNigeria24 CampusesCosta Rica1 CampusGermany 1 CampusLiberia1 CampusLithuania 1 CampusZambia2 CampusesCanada2 Campuses
Page 11
Egypt 1 Campus Turkey 1 Campus Lebanon 3 Campuses Japan 1 Campus China Pakistan 2 Campuses Nepal 2 Campuses 2 Campuses India Bangladesh 4 Campuses 33 Campuses Kenya 10 Campuses Uganda 4 Campuses Malawi 1 Campus Rwanda 2 Campuses Mauritius 1 Campus Australia 1 Campus South Africa Zimbabwe 1 Campus 2 Campuses 9
Page 12
MILLENNIUM FELLOWSHIP SELECTED CAMPUSES FOR THE CLASS OF 2021AFRICAEgyptCairo UniversityGhanaAshesi UniversityKwame Nkrumah University of Science and TechnologyNigeriaAfe Babalola UniversityAhmadu Bello UniversityAmbrose Alli UniversityBabcock UniversityFederal University of Technology AkureFederal University Oye ekitiFirst Technical University IbadanKaduna State UniversityLadoke Akintola University of TechnologyLagos State UniversityNnamdi Azikiwe UniversityObafemi Awolowo UniversityUniversity of BeninUniversity of CalabarUniversity of IbadanUniversity of IlorinUniversity of JosUniversity of LagosUniversity of Lagos College of Medicine University of MaiduguriUniversity of NigeriaUniversity of Port HarcourtUniversity of UyoUsmanu Danfodiyo UniversityKenyaJomo Kenyatta University of Agriculture and TechnologyKenyatta UniversityMoi UniversityStrathmore UniversityTechnical University of KenyaUnited States International University AfricaUniversity of Nairobi Chiromo Campus Kenyatta National Hospital Campus Main Campus Parklands CampusLiberiaUniversity of LiberiaMalawiUniversity of Malawi College of MedicineMauritiusAfrican Leadership UniversityRwandaAfrican Leadership University University of RwandaSouth AfricaUniversity of the Western Cape
Page 13
AFRICA continued Uganda Zambia Makerere University Mbarara University of Science and Technology Ndejje University Uganda Christian University Lusaka Apex Medical University University of Zambia Zimbabwe National University of Science and Technology University of Zimbabwe AMERICAS Brazil United States continued Faculdade Israelita de Ci ncias da Sa de Albert Einstein Georgia Institute of Technology Harvard University Lynn University New York University Northeastern University Pace University Salisbury University Seton Hill University Temple University Tufts University University of California Berkeley University of California Davis University of Connecticut University of Michigan University of North Florida University of Pennsylvania University of South Florida University of Texas at San Antonio University of the Ozarks Canada Simon Fraser University The University of British Columbia Costa Rica EARTH University Mexico Tecnologico de Monterrey University of Monterrey United States Bentley University Brown University Colby College Columbia University Florida Gulf Coast University Florida International University Furman University 11
Page 14
BangladeshAsian University for WomenBangladesh University of ProfessionalsBrac UniversityUniversity of ChittagongASIAIndiaNational Institute of Technology KarnatakaNational University of Advanced Legal StudiesO P Jindal Global UniversityPES UniversityPunjab Engineering CollegeRajagiri School of Engineering & TechnologyRajiv Gandhi National University of LawRashtrasant Tukadoji Maharaj Nagpur UniversitySt. Xavier's CollegeStella Maris CollegeSymbiosis International (Deemed University) Hyderabad CampusTata Institute of Social SciencesThapar Institute of Engineering and TechnologyUniversity of Delhi North Campus South CampusWest Bengal National University of Juridical SciencesXIM UniversityChinaThe Hong Kong Polytechnic UniversityThe University of Hong KongIndiaAmity University MumbaiAshoka UniversityChrist (Deemed to be University) Bannerghatta Campus Central Campus Delhi NCR CampusDelhi Technological UniversityDr Bhanuben Nanavati College of Architecture for WomenDr Ram Manohar Lohiya National Law UniversityGovt Model Engineering CollegeIILM UniversityIndian Institute of Technology MadrasIndian Institutes of Science Education and ResearchIndraprastha College For WomenInstitute of Chemical Technology Mumbai Indian Oil Odisha CampusJai Hind CollegeNarsee Monjee Institute of Management StudiesJapanHosei UniversityLebanonLebanese American University Beirut Campus Byblos CampusSt. Joseph University
Page 15
ASIA continued Nepal Pakistan continued Kathmandu University Tribhuvan University National University of Sciences Technology Pakistan Turkey Fatima Jinnah Women University Koc University EUROPE France Lithuania Sciences Po LCC International University Germany United Kingdom Leuphana University of Luneburg University College London OCEANIA Australia Griffith University 13
Page 16
OUR IMPACT Millennium Fellowship Projects Throughout the Millennium Fellowship program Fellows work on a project that advances at least one of the Sustainable Development Goals and one of the UNAI Principles In 2021 Millennium Fellows worked on 1 083 projects advancing all 17 Sustainable Development Goals 1 083 Unique Projects 247 763 1 665 230 Hours dedicated Lives Positively Impacted Over half of the Class of 2021 worked on a Group or Cohort wide projects where Fellows partner and collaborate on shared goals through their project Cohort wide Projects 2 38 of the Millennium Fellowship projects applied and received a non profit status Group Projects 24 546 Breakdown of Project Types 106 558 Individual Projects 74
Page 17
81 of Millennium Fellowship projects will continue next semester Millennium Fellows are not stopping their journey after the program Out of the 1 083 projects 877 81 projects will continue to work and build their Millennium Fellowship projects while 206 19 projects completed their set goals by November 2021 1 431 Completed 19 Continuing 81 Fellows response to the question Are you continuing this project next semester partnerships were formed through the Fellowship projects Millennium Fellows at Babcock University Nigeria 15
Page 18
Millennium Fellows supported vulnerable communities and addressed a range of social and environmental challenges and collectively they advance all 17 SDGs Projects 213 49 108 713 Projects Target Audience Primary Target Audience Children up to age 15 Men 25 up Women 25 up Youth ages 15 24 60 2 of the projects started as a result of the Millennium Fellowship No Poverty 39 3 60 30 34 14 Elderly Senior Citizens Farmers Agriculturally Based Homeless 39 135 141 11 157 49 Individuals with Disabilities Minority Groups Poverty Refugees Rural Populations Unemployed Reduced Inequalities Quality Education 270 58 5 36 24 93 Responsible Consumption Production Climate Action 58 5 36 Zero Hunger 39 3 60 Good Health Well being 295 27 24 Gender Equality Clean Water Sanitation 105 9 70 18 1 66 Affordable Clean Energy 10 0 92 Decent Work Economic Growth 30 2 77 Breakdown of Projects by SDG Sustainable Cities Communities 40 3 69 Industry Innovation Infrastructure 11 1 02 33 3 05 3 0 28 Life Below Water Life on Land 11 1 02 Peace Justice Strong Institutions 46 4 25 Partnerships for the Goals 17 1 57
Page 19
Stanley Owade University of Nairobi, KenyaMillennium Fellowship helped translate my idea into action.For a long time, I had wanted to contribute positively in mycommunity and improve the lives of those around me. Themillennium fellowship not only provided me a platform to dothat but also gave me the know-how, skills and networks to beable to realize this.
Page 20
I learnt that commitment and passion are key to project execution Ondino Okello University of Nairobi Kenya The Fellowship played a vital role in helping me tackle the gravest challenges I had It allowed me access to a community of people who were interested in the same issues as me which allowed me to ask my concerns with the knowledge that I will receive good responses in return Rohan Chopra Ashoka University India Through Millennium Fellowship I communicated with other change agents advancing the same Sustainable Development Goals SDG I was This not only increased my network but opened me up to more resources I needed for my social impact work now and in the future Abasiodiong Aniekan Ekarika University of Uyo Nigeria I learnt from the fellowship that the key to great leadership lies in a leader s ability to carry everyone along and not seeing oneself as the Centre of the Universe This implies adopting an open attitude that supports good communication which in turn allows everyone to say everything and collect their ideas Salim Oyinlola University of Lagos Nigeria
Page 21
As a campus group we developed a sense of respect empathy and understanding for diverse thought processes within a single cohort We understood the importance of social impact giving meaning to our work setting our projects up for success taking action building leadership skills and a career in social impact Karan Krishnamoorthy Amity University India Through the Millennium Fellowship my project has become more goal oriented and feasible I learned that to achieve my goal I should focus on SDG 8 Decent Work and Economic Growth The Fellowship pushed me beyond my limits and made me delve deeper into the SDG and explore its social and humanitarian aspects Dana El Moghrabi Lebanese American University Lebanon The true gem of the Fellowship nevertheless constituted its network of people Being able to engage in an intergenerational dialogue with likeminded individuals that are choosing to use their education to take informed action in advancing on the SDG goals we were both inspired and incited to push forth our project within the wider Millennium Fellowship movement Maria Del Valle Garcia Sciences Po France Millennium Fellowship plays a vital role because through the fellowship I learned that the society needs me and I must give back to the society despite all challenges Abubakar Nureeddeen University of Maiduguri Nigeria CLICK ON THE FELLOWS NAMES TO LEARN MORE 19
Page 22
Millennium Fellows at University of Nigeria Nigeria 93 of Millennium Fellows recommend the program I recommend this program to a friend who is in a membership or leadership position similar to mine OVERALL PROGRAM BENEFITS The Millennium Fellowship aims to build student leaders competency confidence and promote collaboration and career exposure to the social impact sector We do this by providing students with specialized training connections and credentials over the course of a semester In order to measure our program s impact we present a compilation of the evaluation findings for the Class of 2021 pre and post survey This survey was completed by all graduating Millennium Fellows In the remaining sections of the report we share a summary of the survey results on all components of the programs covering trainings connections credentials and career exposure 17
Page 23
Fellowship Project Spotlight Zero Illiteracy Project Uchenna Okafor Ambrose Ali University Nigeria Millennium Fellow Uchenna Okafor and her Ambrose Ali University cohort started the project Zero Illiteracy to advocate for Children s rights to quality education through academic mentorship training in digital skills and provision of literary materials to underprivileged students in underserved communities of Nigeria The project was designed to tackle increasing rates of illiteracy and school dropouts in their community caused mainly by a lack of academic and financial support During the Fellowship young leaders at Ambrosse Ali organized mentorship and training sessions in local schools fundraised to support the most disadvantaged and created spaces for shared dialogue to find viable community solutions to the high levels of school dropouts More than 500 Nigerian students were trained in and received certificates for time management communication skills critical thinking public speaking and more relevant skills 21
Page 24
TRAININGSThroughout the Millennium Fellowship, Fellowsparticipate in 6 training sessions. These sessionsare designed to build the capacity and sustainsocial impact projects and initiatives throughcreating and producing fundamental organizationaldocumentation, practical skill building, facilitatedpeer feedback, networking, and reflection.
Page 25
Focus on Values Driven Leadership The Millennium Fellowship gives students the opportunity to deepen their values driven leadership and to learn to lead by example with empathy humility and inclusion as guiding values 96 97 agreed that their understanding of empathy humility and inclusion has deepened as a result of the Millennium Fellowship agreed that the Millennium Fellowship has provided meaningful opportunities to reflect on empathy Overall Findings Training Session 95 93 of Millennium Fellows found the training sessions and content useful for their leadership development of Millennium Fellows found the training sessions and content useful for their Fellowship project Millennium Fellows at Lynn University United States 23
Page 26
6 96 Gained the skills necessary to benefit others through social impact as a result of the Millennium Fellowship 94 14 Agreed that Millennium Fellowship provided skills that they would not have gained at their university 90 86 8 96 Improved their management skills as a result of the Millennium Fellowship 5 92 Have the leadership skills they need to lead others in achieving social impact goals 97 95 The training sessions really helped me get started with my project when I was stuck Before I partnered with SHOFCO who offered to share their computer lab with me I had started a computer donation campaign where I requested anyone with a used computer that they no longer use to donate it to my project For 2 months I didn t have any donation After learning about Community mapping and Developing partnerships through the Millennium Fellowship training session 5 I decided to look into partnering with another organization that already has a computer lab in my community That s how I partnered with SHOFCO and got my project started Symprose Purity Jangaya University of Nairobi Kenya
Page 27
Fellowship Project Spotlight Students for Sustainable Living Millennium Fellows at Narsee Monjee Institute of Management Studies India Millennium Fellows at NMIMS in India started the Students for Sustainable Living project designed to take concrete steps to reduce waste and promote sustainable living in their campus and around their community Noting the environmental effects the Lord Ganesha Festival had on Mumbai s beaches the cohort collaborated with local non profits to undertake major beach cleanups and raise awareness on the effects of water pollution During the festival locals bring idols of Lord Ganesha into their homes for 10 days signifying protection and good fortune Afterwards these idols are sometimes disposed of in local oceans This causes widespread pollution and adverse effects on aquatic life as the idols are made of a non biodegradable material called the Plaster of Paris Together with hundreds of volunteers the NMIMS cohort and a local non profit collected up to 3 tonnes of plastic debris from beaches in Mumbai 25
Page 28
CONNECTIONSMillennium Fellows develop new connections byestablishing a Fellowship cohort on campus, beinga part of the MCN global community, engaging infacilitated peer feedback process, global webinars,and networking opportunities inherent tocommunity work.
Page 29
The Millennium fellowship supported my project by helping to keep me accountable for completing it Even more the Millennium fellowship provided me with a community of people that I could turn to when I needed help or suggestions Laura Amrhein Salisbury University United States 8 94 Have built new relationships with their peers through this program and feel strongly connected to peers on campus who are also doing social impact work 92 10 Consider their peers other Millennium Fellows an important part of their future professional network 86 90 Millennium Fellows at Seton Hill University United States 27
Page 30
MILLENNIUM FELLOWSHIP WEBINAR SERIES The Millennium Fellowship Webinar series was designed as an intergenerational dialogue to inform and inspire Millennium Fellows For 45 to 60 minutes Millennium Fellows engage with professionals that work or engage in the social impact sector In 2020 we had a total of 2 652 attendees for our live global webinars Samanthak Bhadra The Sound EXPLORE THE WEBINARS Luis Moreno Ocampo former first Prosecutor of the ICC Kendi Juma Millennium Fellowship 2020 Alumna Born This Way Foundation Steven Fox Remmer Family Foundation Erika Amoako Agyei Stanford SEED Coach Karen Keating Ansara Ansara Family Fund Rachel Sumekh Swipe Out Hunger Juan Chebly UN World Food Programme Omar HernandezUNAI Kosuke Terai UNAI
Page 31
Class of 2021 Global Webinar Speakers Marion Subah Last Mile Health Judge Albie South African activist lawyer writer and a former judge appointed by Nelson Mandela to serve on the first Constitutional Court of South Africa Pia Infante The Whitman Institute Susan Finegan Mintz Katie Strock Gates Foundation Aya Yousef Millennium Fellowship 2019 Alumna Min Pease Gates Foundation Ron Cordes Cordes Foundation Matthew Patsky Trillium Asset Management Sasha Parameswaran UNICEF Ines Esteban Gonzalez UN Women Toby Norman Simprints Technologgy Rachel Gerrol NEXUS Global Summit 29
Page 32
WEEKLY SDG CONVERSATION HOURS Every Saturday Millennium Fellows from around the world convened virtually for 60 minutes to discuss a particular SDG Most of the conversations focused on the impact of COVID 19 on the particular Sustainable Development Goal and the role that young people including Millennium Fellows play in addressing these challenges The global webinars and conversation hours were really helpful in my project It improved my leadership skills and also my networking skills It also encouraged me to keep making a positive impact no matter how small it might be Dike Innocent University of Ibadan Nigeria
Page 33
Marissa Coppin University of Texas at San Antonio, United States, The Millennium Fellowship provided me with an expandednetwork of those whom I could learn from and contributeto. The Fellowship allowed me to reflect through each stepof my project and broaden my horizons when it comes toglobal change.
Page 34
Fellowship Project Spotlight ClimateChangeXTheHabits Polina Gracheva LCC University Lithuania Polina Gracheva and Ana Audare are Class of 2021 Millennium Fellows from the LCC University in Lithuania Polina and Ana led ClimatexTheHabits an SDG 14 Social impact project tackling Climate change Together with members of The Habits Club at LCC University Polina and Ana worked to educate students about the reality of climate change and what humanity can do to tackle it Across 4 months ClimatexTheHabits organized a series of educational sessions and documentary screenings on campus They also invited students at LCC university to take an online course on Climate Change together Through their project Ana and Polina challenged campus peers to reflect on the issues of sustainability and climate change and why it is important for young people to take action
Page 35
CREDENTIALSThe Millennium Fellowship serves as a startingpoint for Millennium Fellows to learn about socialimpact and gain experience advancing the UNSDGs. Millennium Fellows receive a final certificateof recognition from UNAI and MCN upon thecompletion of their Fellowship requirement.
Page 36
Millennium Fellows at NUST Pakistan 91 I am more prepared to pursue a career in social impact as a result of the Millennium Fellowship Indicate all resources and or opportunities you have accessed as a result of the Millennium Fellowship 75 1514 Learned about new kinds of work in the social impact sector 64 1283 Gained beneficial contacts for your project 62 1255 Career knowledge about the social impact sector 60 1207 Mentorship 57 1148 Contacts with my university institution 50 1015 Career advice in the social impact sector 39 784 Connections to global communities 37 742 Contacts with local initiatives 36 723 Contacts with local nonprofits 19 375 Financial support for your project or collective action 17 350 Contacts with local businesses 9 179 Connection leading to a part time temporary paid employment opportunity 4 86 Connection leading to a full time paid employment opportunity 2 33 Other
Page 37
Elevating the work of Millennium Fellows Through the Millennium Fellowship website each Millennium Fellow has their own profile with their unique URL This has served as a valuable asset and a digital profile for Millennium Fellows to share their work and network with student leaders supporters and funders Millennium Fellows were also featured on various social media outlets through the Millennium Fellowship university press and other media outlets around the world including NASDAQ Al Jazeera among others MORE VIDEOS FELLOWSHIP BLOG PRESS 35
Page 38
95% 5%90%10%Valued the Fellowship's Recognition"Being a Millennium Fellow has elevated or made morevisible my project on campus or in my community."Increased their confidence"I am more confident that I can effectively contribute tosocial impact goals as a result of the MillenniumFellowship"96%94%33
Page 39
Millennium Fellows at Moi University in Kenya offeringmentorship to high school studentsMillennium Fellows at CHRIST University Central Campus, bringing donations to a home for the disabledMillennium Fellows at the Florida International Universityattending Fellowship training sessionsMillennium Fellow Margaret Mathenge at the AfricanLeadership University, Mauritius
Page 40
Given the COVID 19 pandemic it was frustrating to not be able to connect in person with my university cohort Our Zoom sessions were great but I would have loved to sit down with them in person LEARNINGS FOR 2022 A core facet of the Millennium Fellowship is building robust feedback loops to learn from Fellows and refine the program Millennium Fellows complete comprehensive pre and post program surveys Based on the feedback of Campus Directors and Millennium Fellows from check ins and survey data here are areas for program improvement in 2022 FEEDBACK ACTION ITEM The times for the webinars and events should be communicated more clearly Ensure that all Fellows are able to see upcoming events in their local timezone on the Fellowship portal Should the training sessions continue virtually shorten the sessions to avoid online fatigue and add more interactive activities Reduce recommended virtual session length from 2 hours to 1 5 hours and include more icebreaker activities Campus Directors need more time in the beginning of the program to prepare and meet the Fellows before the training sessions Aim to notify Campus Directors of their selection at least two weeks before the program starts and ensure they have the campus roster one week before the official start of the program Engaging and connecting current Fellows with Alumni of the Millennium Fellowship Create a formal Alumni Network to ensure current and former Millennium Fellows can easily network around shared passions and professional objectives 38
Page 41
Leanne Lopez, Florida International University, United StatesI am so eternally grateful for the opportunity the MillenniumFellowship has presented me to be able to meet suchenriching and inspiring individuals, and for allowing me acreative and meaningful space to bring my ideas andaspirations of social impact to fruition and ultimately to life!
Page 42
The Millennium Fellowship is a leadership development programpresented by the United Nations Academic Impact and MCN.Learn more about the program at: millenniumfellows.org